Lana...like "Banana"
For Lana, yoga is a lifestyle; it is freedom and bliss. She grew up watching her father practice yoga daily but it was not until she began to experience the demands of getting an engineering degree that she turned to the practice. As a former gymnast and cheerleader, Lana initially practiced yoga as an outlet for physical expression, but it grew into a sustained devotional passion as she transitioned to professional life, trained for marathons and competed in triathlons.
The tipping point in her journey from student to teacher was witnessing the transformational power yoga had on her fellow triathletes as she began leading them in informal weekly classes. Along with their inspiration and her excitement to share the practice, Lana completed Tough Love's 200-hour Teacher Training led by Neda Draupadi Honarvar and Rachelle Knowles in Atlanta, GA.
Warm and energetic, Lana will lead you through a dynamic, powerful sequence that cultivates awareness of the mind-body-breath connection. Her classes build heat and intensity with an engaging blend of alignment-based instruction and focus on the foundation. Vital elements include effective flexibility training, foundation and core stabilization, strengthening and balance work. Always a student first, she is driven by the expansion of her own practice, lineage and inspiration from others. She challenges students to let go of preconceived notions, honor the body and slow the mind while submitting to grace, humility and awareness. Her aim is to give each student a sense of empowerment while feeling refreshed and renewed. You might also catch Lana echoing her father's most repeated phrase: just breathe!
When not practicing yoga, you may find Lana biking, running on the beltline or checking out local farmers markets. Lana recently moved to California and is excited to explore the west coast!
Namaste!
[J U S T B R E A T H E]
Teaching Experience
Vinyasa | Power Flow | Yin & Restorative | Yoga for Athletes
All Level | 200 Hour Certified
Yoga Instructor
Crossfit Midtown, Atlanta (March 2015 - Sept 2018)

X3 Sports, Atlanta (March 2015 - May 2017)

Back to Basics Chiropractic, Atlanta (June 2015 - Feb 2016)

Evolation Yoga, Atlanta (reoccurring sub)

Tough Love Yoga, Atlanta (reoccurring sub)
Workshop Instructor
Yoga for Athletic Performance, 6 week series @ Crossfit Midtown (Jan - Feb 2018)

Handstand & Inversions Workshop @ Crossfit Midtown (Aug 2018)

Back to Basics Restorative Yoga, 8 week series @ Back to Basics Chiropractic (Sept - Oct 2015)
Trainings and Intensives
Hatha Yoga Instructor Certificate, 200-hour Yoga Teacher Training, May 2015
led by Neda Draupadi Honavar and Rachelle Knowles at Tough Love Yoga, in Atlanta, GA

Christina Sell Weekend Workshop, May 2015

Patrick Beach Weekend Workshop, May 2015

Darren Rhodes & Sam Rice Weekend Workshop, April 2015

Noah Maze Asana & Anatomy Intensive, Jan 2016

Christina Sell Weekend Workshop, July 2017
Formal Education
Bachelors of Science, Mechanical Engineering
Texas A&M University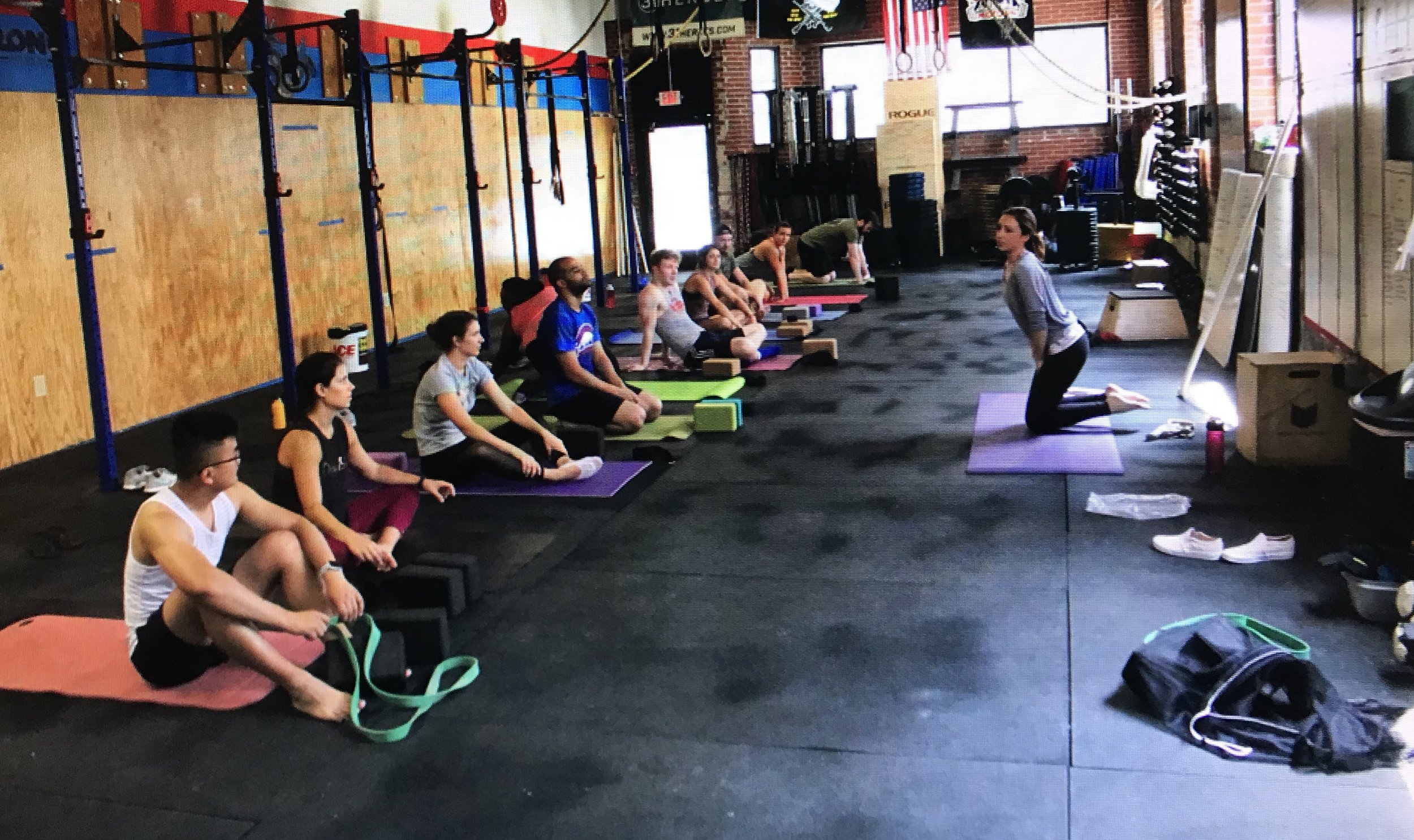 Weekly classes at CrossFit Midtown Atlanta
Love watching these yogi's transform over the years!!
Yoga is an excellent recovery workout because classical poses support the same concepts of creating torque, finding a braced neutral spinal position and engaging the core, while maximizing your body's ability to repair through deep and engaged stretching. Flexibility will increase over time and the nervous system will decompress to allow the information you receive mentally and physically during your workouts to be integrated.
Being able to deeply recover & rejuvenate helps you come back with more power, focus and determination.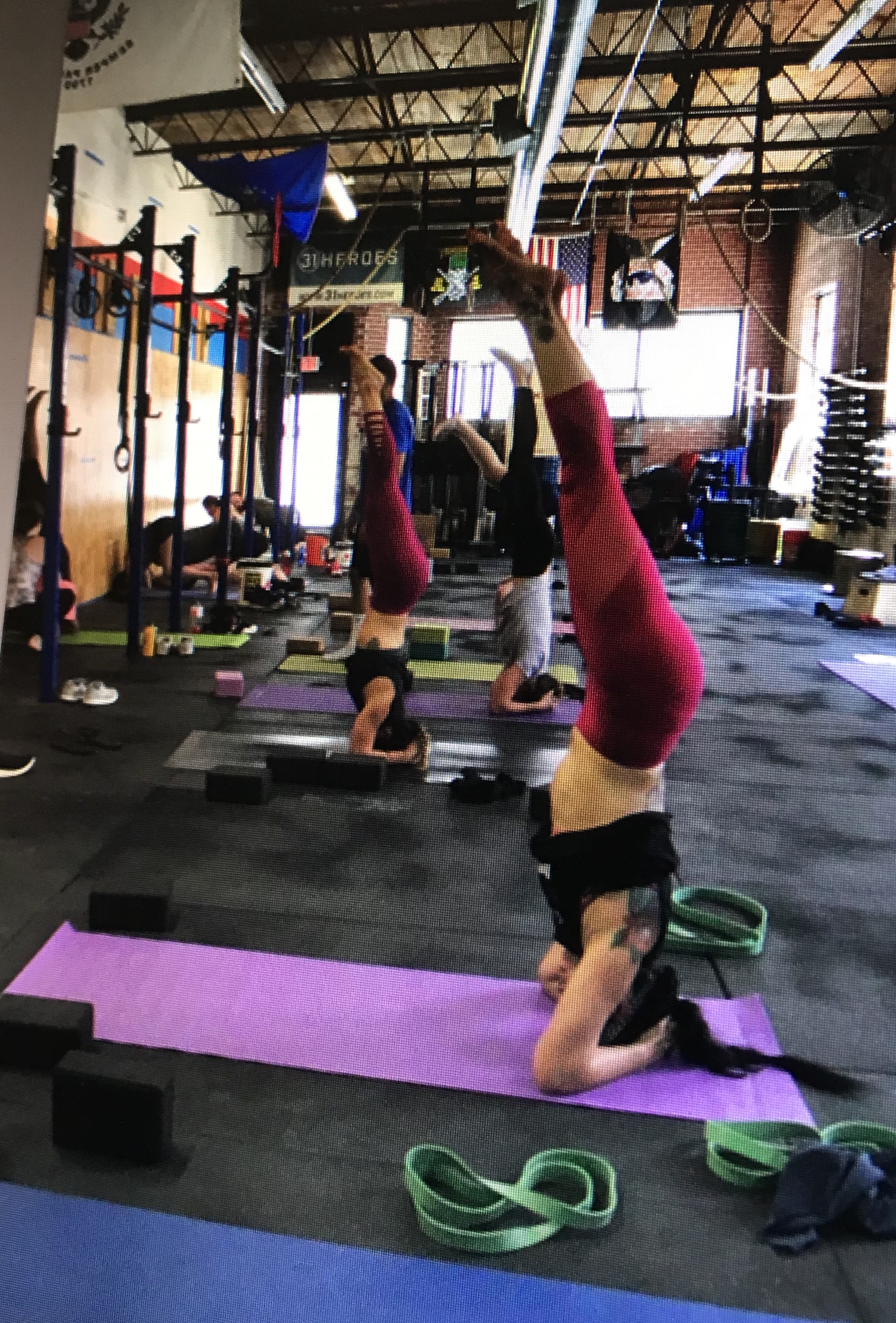 Teaching Handstand & Inversion Workshops
Free classes for the community